While forklifts are most commonly powered by electricity, there are some models that use propane. If you have a propane-powered forklift, you will need a forklift propane tank. Here at Propane Ninja, we can help you find the perfect propane tank for your forklift.
We carry a wide variety of forklift propane tanks, so you will definitely find one that fits your forklift model. We also offer a wide range of sizes, so you can choose the right tank for your need. Plus, we offer competitive prices on all our forklift propane tanks.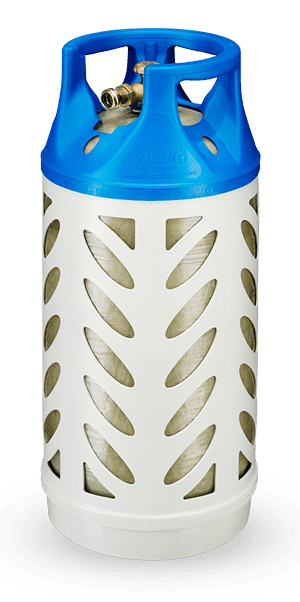 Propane Ninja provides propane forklift tank that offer you the following benefits:
Up to 22 lbs lighter, making them the lightest FLT cylinders available.
Translucent gas level, so you can see through it
Meets OSHA lifting guidelines, as at 47 lbs it is within the 50 lbs recommended limit
Competitive Pricing, which won't rip you off at all!
Find out if we deliver to your area
Industries count on us for our propane forklift fuel, delivered on time with precision. Since our logistics ensure efficient deliveries, our fiberglass cylinders compliment by adding the highest degree of safety standards in the industry.
Our fiberglass propane forklift fuel delivery system is one of a kind and unmatched by our competition. With forklift safety training, scheduled automatic deliveries, and cylinders that actually fall under OSHA guidelines, we have a winning formula for long term customers. After all, we are in it to see them succeed.

Lightweight
Viking Cylinders® are lighter than aluminum and steel cylinders. With a tare weight of just under 16 lbs, our cylinders are the lightest FLT cylinders available. Filled to capacity they weigh less than 47 lbs, which is below the OSHA recommended maximum lifting limit of 50 lbs. The low weight combined with an ergonomic design makes this cylinder very easy to lift, handle and stack, further reducing the risk of workplace injury.
The HDPE liner and fiberglass pressure vessel have sufficient translucency for the user to see the liquid level of LPG inside the cylinder. The translucency feature enables the user to see the gas level through the wall of the cylinder, therefore eliminating the risk of running out of gas at an inopportune time. It also makes it possible for the consumer to verify that the cylinder has actually been filled with the right amount of LPG.
Safe
With over 9 million units in use worldwide, our cylinders hold the best safety record in the industry. Viking Cylinders patented construction withstands a burst pressure that is twice as high as their steel counterparts. In addition, our cylinders will not BLEVE, eliminating the risk of explosion in case of fire. This is by far the best tank for your propane forklift.
Hexagon Ragasco fiberglass LPG cylinders can be burned in a fire without any concern for a BLEVE. After a few minutes in a fire, the resin will be burned off and the plastic liner and casing melted. The LPG will then "breathe" through the cylinder wall and burn off in a controlled manner.
EASY MAINTENANCE AND USE
The translucent fiberglass materials allow you to see the fuel level eliminating the need for inaccurate gauges on your propane forklift. It is now easy to see how much fuel is left. The FLT cylinders are delivered with proper liquid service valve which varies by market. In North America cylinders can be configured with a Multivalve that includes the ACME fast fill connection for increased flexibility.
Hexagon Ragasco fiberglass LPG cylinders do not corrode. All applied materials are non-corrosive and have been carefully selected to ensure maximum chemical stability and resistance to concentrations of acids or solvents that may appear in the LPG or in the environment where the LPG cylinders may be stored or used.
Additionally the pressure vessel is protected by a coating on the outside.
LOWER PROPANE FORKLIFT OPERATIONAL COSTS
Viking Cylinders do not rust or deteriorate like steel cylinders, so they'll never need repainting. This effectively eliminates refurbishment costs. Your company will save money by eliminating the cost and time needed for shot-blasting, painting, baking… as a result, you will also preserve the environment by eliminating toxic residues from the refurbishment process and saving energy.
For aesthetic purposes,Hexagon Ragasco fiberglass LPG cylinders can be easily and inexpensively cleaned by power-washing with a soap and water solution. Therefore, shot-blasting or painting of the cylinders is not necessary.
QUALITY-ASSURED MANUFACTURING
Viking Cylinders are produced at our state-of-the-art manufacturing plant in Norway. Furthermore,Viking Cylinders' fully-automated production line is the only one of its kind in the world. Quality is assured throughout with all steps in the value chain and all processes certified according to ISO 9001. Most of all, During the manufacturing process, there are numerous points where production data on each cylinder is collected and stored for full traceability.
MEETING THE STANDARDS
Viking Cylinders comply with a wide range of international standards and approvals. The principal ones include:
Department of Transportation: DOT-SP 12706 & TC SU 5931
International Standards Organization: ISO 9001 & ISO 11119-3
Pressure Vessel Testing: EN 14427 & EN 12245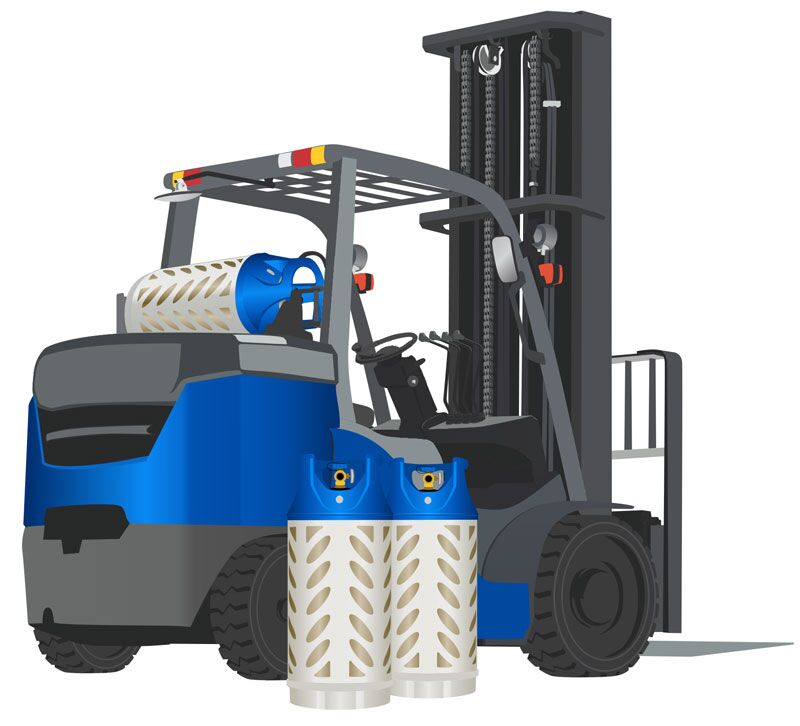 Propane Ninja offers a 3-step solution to ordering a forklift propane tank.
STEP 1: Reach Us Out through Call or Email
Call us up on (800) 644-2190 or send us an email on info@propaneninja.com, so you can talk to our support team.
STEP 2: Tell Us Which Propane Ninja Service You Need
There are a variety of them, including our forklift propane fuel delivery service.
STEP 3: Receive Your Forklift Propane Tank!
Let us know if the order is not as you specified, and we will replace it for you.
PRESSURE RATINGS
Service pressure: 20 bar / 294 psi
Test pressure: 30 bar / 441 psi
Required burst pressure: 60 bar / 882 psi
Actual Hexagon Ragasco burst pressure: 150 bar / 2200 psi
VALVE DESCRIPTION
A wide variety of valves for liquid service and horizontal filling.
One hole solution – fewer points for potential leaks on your propane forklift
Multi function valve, including PRV and Excess Flow Valve
Translucent cylinder no need for level gauge
Valve fully protected by upper casing
Straight threads reduce torque force into fiberglass walls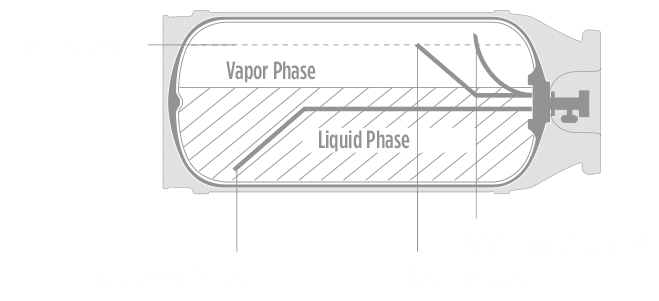 "Excellent! Mike and Pete go out of their way to bring customer service to a personal level beyond what you would normally expect. They have responded immediately to all requests even during the oddest times day or night. I even got a response while he was on his honeymoon! Great people who do great work 🙂 We are customers for life!"
"We have been fortunate to work with Propane Ninja's over that past several months. I can say that they are very responsive to our needs and also very accommodating. They make it easy on us. Thanks guys!"
"We have done business with Mike and Propane Ninja for many years. Mike and his team are honest and hardworking. In addition to Mike, Martin is also a quality individual! I would recommend this company to anyone looking for good people to do business with."
Great value and excellent customer service. I highly recommend them for your propane needs."
These guys are amazing!! I order a lot of gas for my propane forklift and they are extremely professional, and extremely prompt! I never have to ask twice. I love working with people like them and would recommend them anytime!"

These guys are amazing!! I order a lot of gas for my propane forklift and they are extremely professional, and extremely prompt! I never have to ask twice. I love working with people like them and would recommend them anytime!"

Great value and excellent customer service. I highly recommend them for your propane needs."
Request A Call
Please provide us your name and phone number and one of our specialist will call you. Talk to you soon!